About Us
In the beginning...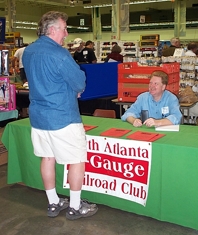 The North Atlanta O-Gauge Railroad Club was founded in 2002 on the Sunday evening of the "Greenberg Show". Our founder, Jeff, had taken the initiative to get a table and recruit members for an undefined North Atlanta O-Gauge Railroad Club. That Sunday night about 20 hobbyists got together at The Runaway Train, later Atlanta Trains, to create the Club. It was interesting to hear the many different and diverse reasons why people wanted a club.
The first year was challenging. Meeting attendance would fluctuate from 8 down to 3. Our membership mostly wanted to get together to talk about trains with kindred spirits. We had and continue to have demonstrations on how to fix or create things for our layouts. We sceduled field trips. We even had a holiday party at the end of the year, still a tradition. Our first project was the creation of the layout for The Runaway Train. By the time Christmas 2002 came around we had made substantial progress. Our members built the table, laid the track, decorated the landscape, made trees, made roads and even lent buildings, vehicles and trains to the layout. We even built a mountain.
| | |
| --- | --- |
| Club Charter | Club Flyer |
| | |
| | |
Where we are now...
Today, The North Atlanta O-Gauge Railroad Club is comprised of around 80 members of all ages and our membership continues to grow with each year. Families, including spouses, children and grandchildren are all encouraged to participate in Club's meetings and events. We now meet at Hobbytown USA in Kennesaw on a monthly basis, although occasionally members will host a meeting in their home. We still learn to fix trains, share tips and tricks, swap stories, and run trains of all makes. The Club is now designing and building its own permanent layout at Hobbytown USA. The layout is capable of running all sizes of motive power and rolling stock in conventional, Legacy, original TMCC and DCS modes. So if you need a place to run your trains, consider joining our Club. We look forward to watching the trains go and talking about them.
Another primary project the Club has is it's traveling layout. Initially created to attract attention and recruit new members to the Club, the traveling layout is now almost exclusively for the children. We take the layout to most of the train shows in Atlanta. Children have the priority in running the trains. There is nothing in the world like watching the joy and fascination a child has when watching and running a train. Bring your family to see the Traveling Layout at the next train show in Atlanta. We'd love to talk to you about trains.
We are a social group and we have fun with our hobby, which is what it really is all about.
If you have any questions, please check out our FAQ area or contact us.